The Grove
Welcome to Bethesda UMC Children's Ministry - Growing Young Hearts and Minds
Meet children on their own developmental levels.

Teach them of Christ's love and grace.

Equip them to serve and love others.

Nurture their spiritual growth.

Help them to rely on God's word and guidance.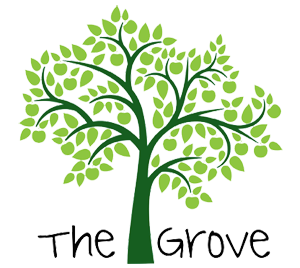 "So then, just as you received Christ Jesus as Lord, continue to live your lives in Him, rooted and built up in Him, strengthened in the faith as you were taught, and overflowing with thankfulness."
– Colossians 2:6-7
Our VISION for children is that they will:
Come to know Christ and experience His love.

Understand and trust in His Word.

Grow in His grace and plant deep roots in His church.

Extend Christ's love to others.
Sprouts Nursery
Our nursery serves children aged birth to 5 years on Sunday mornings during worship service and Sunday School. Our nursery workers are Safe Sanctuary certified, have childcare experience, and are friendly and compassionate followers of Christ who wish to plant seeds in the lives of our children leading them to grow up in Christ's love.
Sunday School Classes
10:00 am
Our Children's Sunday School classes use the Deep Blue Kids curriculum. "Deep Blue is a new awe-inspiring resource for children which includes adventure, exciting stories, science experiments, arts and crafts, animated video storytelling, and active games-all combined into a living-faith experience that will help children discover what it means to be a disciple of Jesus Christ today!" – Cokesbury
Located on the first floor of the Education Building
More Ways to Get Involved
Camp Christ  – Preschool to 5th Grade
Wednesday Evenings 6:15 to 7:45
Resumes in September
Join us for Wednesday Night Fellowship and Bible study during the school year. After dinner with their parents, classes are available for children ages preschool through 5th grade. Each month we offer a new series focused on the Bible, but also relevant to the issues our students face daily! They will explore the Bible through hands-on learning featuring games, activities, crafts, and skits. We hope to have you join us for Camp Christ!
God's Knights – 2nd to 5th Grades
Sunday Evenings at 6:30pm
God's Knight's Room & via Zoom
Contact Courtney Barnes for more information.
Grab your Bible and head to God's Knights at 6:30pm on Sunday evenings during the school year! The God's Knights Ministry allows our children to get a good foundation of the Bible and dig deeper into each book of the Bible. We encourage all 2nd through 5th graders to come and participate in this special Bible enrichment ministry.
Children's Choir – K5 to 5th Grade
Sundays 4:15- 5:00pm
Resumes in September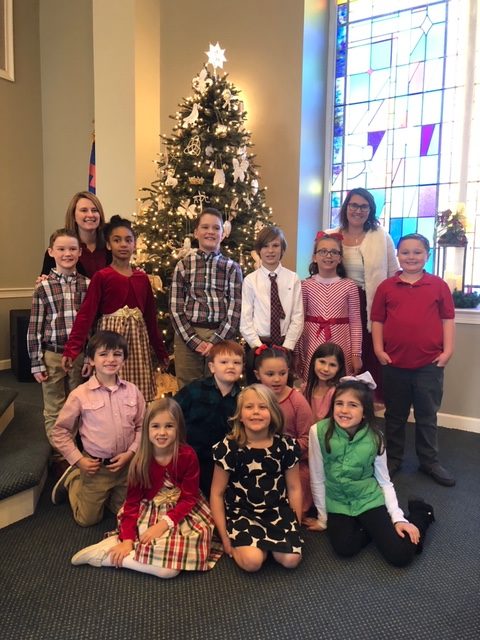 Our Children's Choir meets on Sundays from 4:15- 5 pm in the Common Ground Sunday School classroom. They learn upbeat Christian songs and each year perform a Christmas Program. Under the direction of Heather Turner and Jeanne Bollinger, our children learn to lift their voices to the Lord and praise Him through music. If you have a child that would like to participate in the Children's Choir or if you need more information, please contact Heather Turner at hcturner2004@yahoo.com. The Children's Choir is for children ages K5 through 5th grade.
Acolyte – 2nd to 6th Grades
Sunday Mornings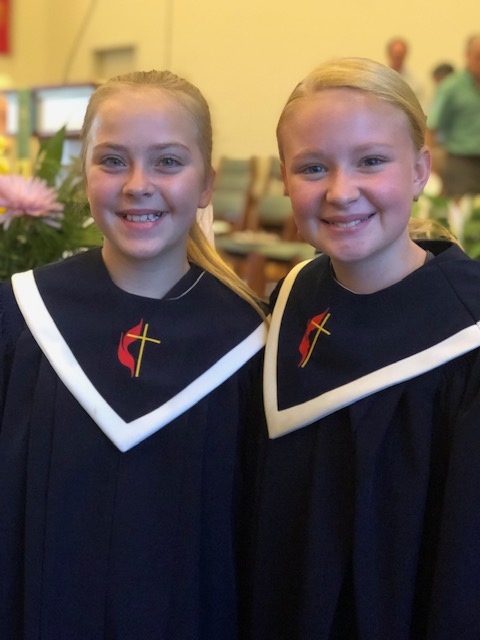 To acolyte is one of the first acts of service for children to serve God in the church. We offer training on becoming an Acolyte and celebrate the service of our children when they graduate from the program. If you have a child/youth in 2nd through 6th grade, please encourage them to participate in our Acolyte Ministry. The service rotation is every other month. Contact our Director of Children's Ministries, Courtney Barnes, at courtneybarnes@bethesdaumc.org for more information.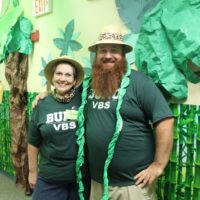 Vacation Bible School
Each summer our Children's Ministry team and church family come together to put on VBS. Vacation Bible School is a themed week-long program that surrounds children with other friends in their age-group and guides them through a faith-enriching program that includes crafts, recreation, and music rotations, as well as group worship and dinner. It is offered once a summer, usually in the evenings, and is open to children that have completed K4 through 5th grade.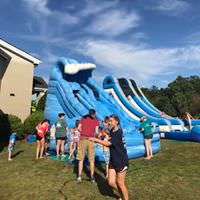 Messy Nights
Featuring inflatables, messy games, treats, and special surprises, Messy Night is an evening of fellowship as families and children of all ages gather to celebrate the messiness of life—and the clarity Jesus provides!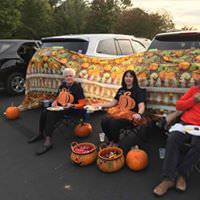 Seasonal
Sweets With Sweeties Valentine Event
Easter Eggstravaganza
Summer Fun Outings & Events
Promotion Sunday
Fall Festival/Trunk-Or-Treat
Christmas Program
Cookies with Santa
Creating a Safe Environment
Here in The Grove, safety comes first. We care deeply about our volunteers and children, believing that a safe and caring environment is the best place to encounter the Lord.
All of our volunteers and leaders complete Safe Sanctuary training through the UMC. They submit background checks and are placed according to the gifts God blessed them with. Trainings are offered quarterly.